by [or about] Zachàr Laskewicz

Starting from most recent works and then continuing backwards year by year. Within each year the records are classified according to the codes that differentiate each particular record from one another and that appear in the first line of each of the records below.
2013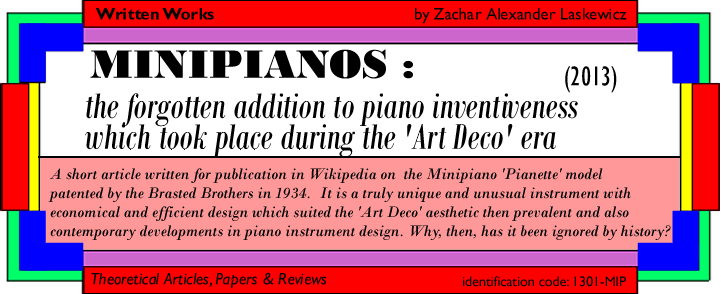 2008
2007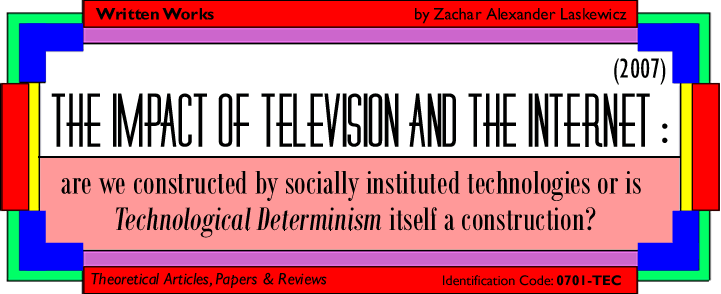 0701-TEC
THE IMPACT OF TELEVISION AND THE INTERNET :
are we constructed by socially instituted technologies or is Technological Determinism itself a construction?

Keyconcepts: Technology, Determinism, Media, Internet, Television

NOTES
Recently updated article on the subject of technological determinism.

2005

0501-SEX
SEXUAL ACTS AS PERFORMATIVE TEXTS :
an enactive and embodied hermeneutics for a world scarred by technology
Keyconcepts: Literary Criticism, Sexual Deviation, Performativity, Enaction.
NOTES
This is a book based on my masters disseration (MLetters); it concerns primarily the relationship between textuality, performativity and sexuality, and uses both Ballard's CRASH (as well as Cronenberg's film of Ballard's novel among many other cultural texts) as a test-case.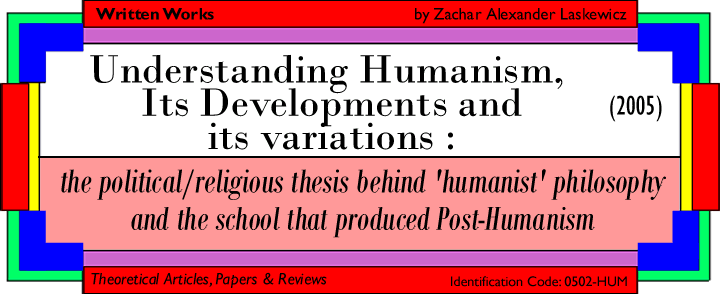 0502-HUM
UNDERSTANDING HUMANISM ITS DEVELOPMENTS AND ITS VARIATIONS :
the political/religious thesis behind 'humanist' philosophy and the school that produced Post-Humanism
Keyconcepts: Humanism, Post-Humanism, Protestant philosophy, Paradigmatic change.

NOTES
Humanism is a commonly applied and widely misunderstood term, originally emerging from the dynamic paradigm-changing influence of the European Renaissance. Descartes, and the many others who helped to shape the first appearance of the humanist movement, saw for the first time the human being as not only central in its universe, but also the figure having the potential power to define and control it as well. When it returned in the 19th century, mainly in the form that is now referred to as 'liberal humanism', it was responsible for supporting the whole romantic movement which placed such an emphasis on individual passion, and even parts of the modernist movement which although essentially reacting against romanticism, shared (perhaps unintentionally) many of the main characteristics of liberal humanism. The intention of this paper is to discuss in more detail the number of contrasting appearances of 'humanism' and what is today referred to as 'post-humanism'.

2004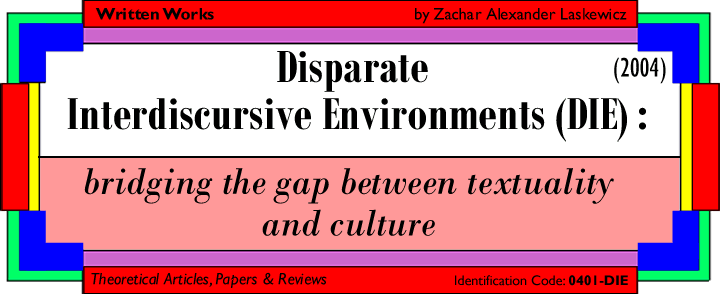 0401-DIE
DISPARATE INTERDISCURSIVE ENVIRONMENTS (DIE):
bridging the gap between textuality and culture
Keyconcepts: Intertextuality, Textuality, Discursivity, Performativity. Modernism, Post-Modernism.
NOTES
Literature is a complex sociocultural tool, often used by individuals as a tool to model themselves against in a positive or negative sense.  A field within any type of cultural Text which is adopted by any of the characters, events or actions distinguish themselves in some way by providing an alternative 'point of view' on the action that takes place in the work.  These 'fields' are generally referred to as 'discourses'; works that belong to what is referred to as 'realist' fiction tend to use one 'discourse' or point-of-view at a time, or to carefully control them so that there is no confusion between them. In this writing the intention is to explore some of the experimental techniques of literary expression to represent this 'disparate' form of expression, an ontology which can only be communicated thanks to the assistance of semiotic communication from the 'interdiscursive environment' in which the narrative that forms the piece of literature receives ultimate expression.  I'll be looking at a number of contemporary novels to demonstrate the way literature can communicate information concerning the cultural rather than literary state of both the 'reader' and the 'writer'.


0402-IDE
INTRADISCURSIVE ENVIRONMENTS :
myth, metaphor and musicality in contemporary fiction
Keyconcepts: Intertextuality, Textuality, Discursivity, Musicality, Myth, Metaphor, Spatiality, Temporality.

NOTES

In this paper, the argument is set out so that the notions of myth, metaphor and music are explored as contrasting ways to structure narrative, often combined in what I have called 'intradiscursive environments', a term which contrasts to the notion of 'interdiscursivity' which I have discussed in an earlier paper. The foundational thesis on which this article is based is taken from a theoretical school referred to in a broad sense as 'reception theory', referring to the Barthesian notion where the significance of the text depends on the active participation of the reader.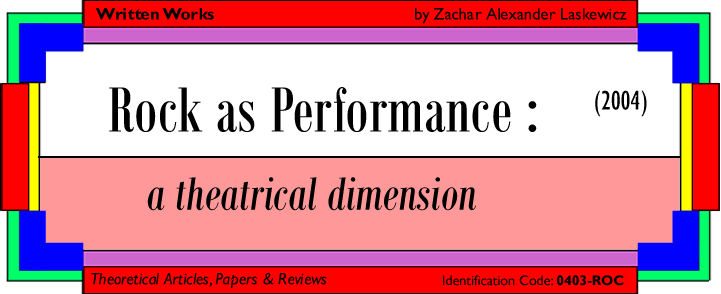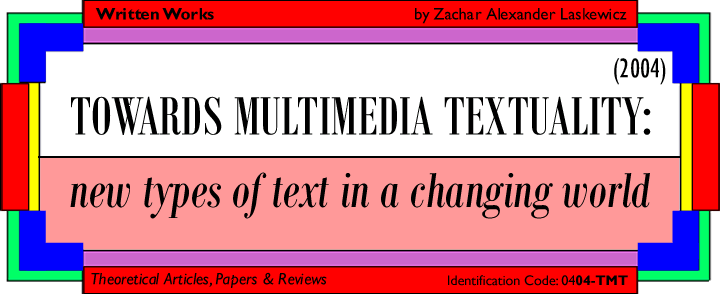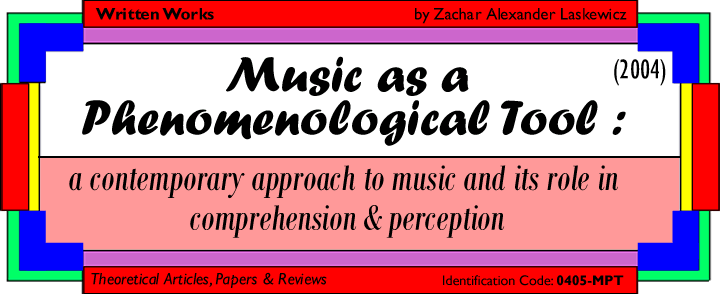 2003
0301-FHS
FROM THE HIDEOUS TO THE SUBLIME:
olfactory processes, performance texts and the sensory episteme
(2003) Sensory Textuality, Performative Textuality

Keyconcepts: Balinese culture, episteme, olfaction, Performativity, Russian culture, Taiwanese culture,
textuality.

PUBLICATION :
– LASKEWICZ , Zachar (2003) Performance Research Journal, 8(3), London: Francis & Taylor Ltd., pp. 55-65.

0302-MTB
MUZIEK-THEATER IN BALI
(2003) Ethnomusicology

Keyconcepts: Balinese culture, Dutch

PUBLICATION :
– LASKEWICZ , Zachar (2003) Kunsttijdschrift Vlaanderen
Jaargang 52, September 2003.


MUSIC AS EPISTEME, TEXT, SIGN & TOOL :
comparative approaches to musicality as performance
(2003) Musicology, Music Philosophy, Balinese Studies
Keyconcepts: Balinese culture, episteme, Performativity, Top-Down, Bottom-Up, Javanese Culture, Semiotics, Hermeneutics.

PUBLICATION :
– LASKEWICZ , Zachar (2003) Music as Episteme, Text, Sign & Tool: comparative approaches to musicality as performance, Taipei and Brussels: Saru Press [ISBN 0-935086-35-8].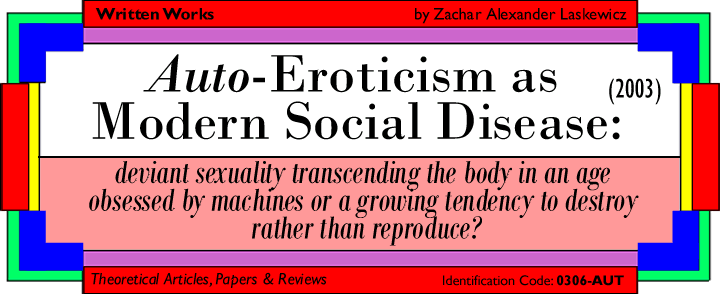 2002
0201-WTM
WONDROUS TEXTUAL MACHINES
new forms of textuality in a changing world
(2002) Hermeneutics, Multimedia Textuality

Keyconcepts: role-play, internet textuality, textuality, contemporary hermeneutics, literary theory
-LASKEWICZ, Zachar (2002) "Wondrous Textual Machines: new forms of textuality in a changing world," in: The New Information Order and the Future of the Archive, John Frow (ed.), University of Edinburgh. [ISBN 0-9532-713-07 (html) 0-9532-713-15 (pdf)]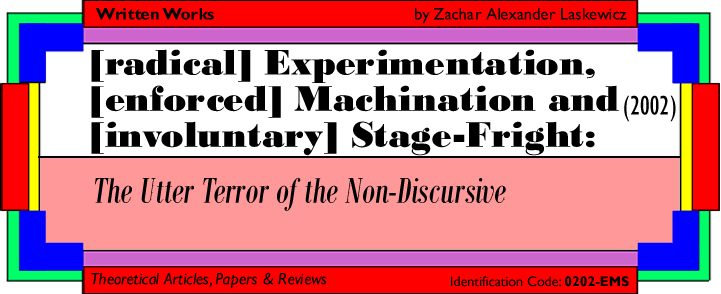 0202-EMS
[radical] EXPERIMENTATION, [enforced] MACHINATION & [involuntary] STAGE-FRIGHT:
the utter terror of the non-discursive (pdf version)
(2002) Avant-Garde Art

Keyconcepts: avant-garde, machination, embodiment, individual/state.

INFORMATION :
Article published in a bilingual (French/English) book concerning three different approaches to theatrical expression during the 20th century. The first involves the experimentation which took place during the Dada movement in Switzerland and other places in Europe. The second involves the 'machination' of the body in theatrical forms where the shape of the human is coerced into forming something inhuman according to a political system, from Ancient Java to Nazi fascism and the Bauhaus movement. The last category concerns the liminal state the author finds him or herself in when these systems begin to fail, expressed particularly well in the work of Beckett.
PUBLICATION :
– Laskewicz, Zachar (2002) "[radical] Experimentation, [enforced] Machination & [involuntary] Stage-Fright: the utter terror of the non-discoursal", in Homo Orthopedicus, L'Harmattan, Paris: pp. 369-391

2001
0101-MAL
MUSIC AS LANGUAGE:
a critique of structuralism and semiotics in the study of music (pdf format)
(2003) Music Semiotics

Keyconcepts: Semiotics, Structuralism, Musicality, Musicology, Linguistics.

PUBLICATION :
– http://www.nachtschimmen.eu/zachar/writer/0101_MAL.htm

0102-SCM
The Self-Reflexive Cultural Myth:
Bali and the Western Fantasy Fulfilled
(2001) Cultural Anthropology

Keyconcepts: Cultural Anthropology, Cultural Relativism, Bali, Myth-making Machines, Orientalisms.

INFORMATION :
Paper presented at the 10th International Symposium of the Austrian Association of Semiotics, MYTHS, RITES, SIMULCRA - Semiotic Viewpoints, Vienna, Austria.

– http://www.nachtschimmen.eu/zachar/writer/0102_SCM.htm

0103-PMI
Popular Music & Interculturality:
the dynamic presence of pop music in contemporary Balinese performance
(2001) Intercultural Studies

Keyconcepts : Interculturality, Bali, Pop music, Cultural adaptation..

INFORMATION :
Paper published in the following book -

In: Refashioning Pop Music in Asia (2001), B. Shoesmith, A. Chun (eds.), RoutledgeCurzon: London.

2000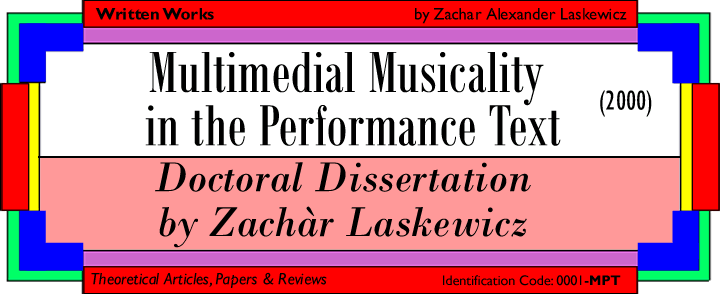 0001-MPT
Multimedial Musicality in the Performance Text :
Doctoral Dissertation by Zachàr Laskewicz
(2000) Musicology, Music Philosophy, Balinese Studies
Keyconcepts: Balinese culture, episteme, Performativity, Top-Down, Bottom-Up, Javanese Culture, Semiotics, Hermeneutics. Minimalism, Musical Structure, Music-Theatre, 'Music and the other'.

PUBLICATION :
–rewritten and formatted to be published in the following format, downloadable as .pdf document:
LASKEWICZ , Zachar (2003) Music as Episteme, Text, Sign & Tool: comparative approaches to musicality as performance, Taipei and Brussels: Saru Press [ISBN 0-935086-35-8].

1999

1998
9801-ZAU
(1998) Semiotics/Linguistics/Poetry/New Music-Theatre

PUBLICATION:
Chain 5, Summer 1998, University of Hawai'i Press.




1997

"The Organic Presence of the Sign in Balinese Performance Texts"
(1997) Semiotics/Ethnomusicology
Paper presented at the "Semiotics Bridging Nature & Culture" congress held in Guadalajara, Mexico, July 13-18, 1997.
In: a CD-Rom, published by the University of Mexico Press.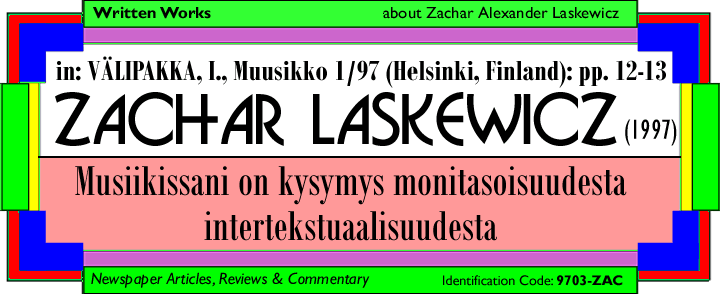 9703-ZAC
"Zachar Laskewicz: 'Musiikissani on kysymys monitasoisuudesta - intertekstuaalisuudesta"
(1997) Semiotics/Music-Theatre/Intertextuality
In: Muusikko 1/97, pp. 12-13, Finland 1997.


1996
9601-EMB
THE BALINESE MUSICAL TEXT EMBODIED IN TIME AND SPACE:
towards a new approach to the musical sign
(1991) Balinese Culture

Keyconcepts: minimalism, musical structure, music-theatre, musicality, 'music and the other'

PUBLICATION:
This article is based on the paper Laskewicz gave at the music semiotics conference held in Bologna. It concerns the important way Balinese music helps the Balinese people form their 'musical episteme', particularly informing the way they experience temporality and spatiality.
– Laskewicz, Zachar (1996) "The Balinese Musical Text Embodied in Time and Space: Towards a New Approach to the Musical Sign," in Musical Signification: Between Rhetoric and Pragmatics. International conference on Musical Signification, Bologna 14-16 November 1995: pp. 279-289.






1995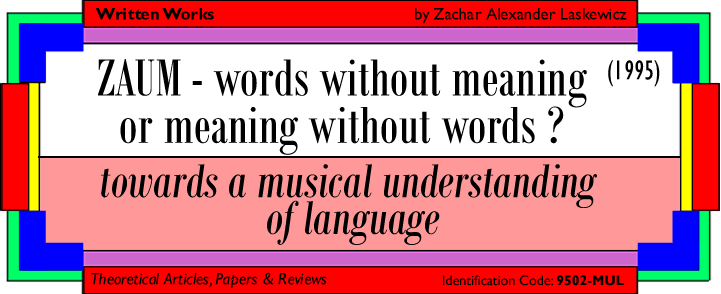 9502-MUL
"ZAUM: words without meaning or meaning without words? Towards a Musical Understanding of Language"
(1995) Linguistics/Semiotics/Musicality/Poetry
Paper presented at the International Summer Congresses for Structural and Semiotic Studies, Imatra, Finland, June 10-16, 1995.
Availability: Paper available on loan from the State Library of Western Australia.





9506-DIS
Understanding Discourse according to the tenets of Coherence & Cohesion
Paper by Zachàr Laskewicz


1994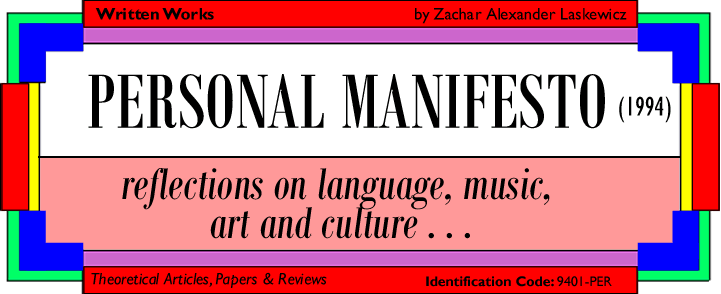 940

ZAUM: New Music-theatre for five performers and tape - a historical, theoretical and scenic description

Keyconcepts: Semiotics, Linguistics, Poetry, New Music-Theatre

1993
"Het Loket: an anti-opera (an analytical essay)"
(1993) Avant-Garde Theatre/The New Music-TheatreWritten for the new-music composition project at the Royal Ghent Conservatorium in Belgium.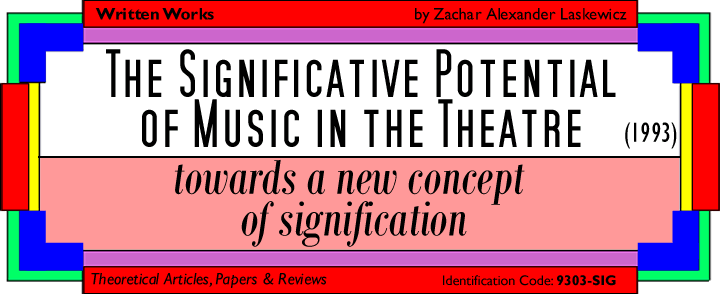 "Language, Text, Music Theatre: Extending the Significative Potential of Music in the Theatre, Towards a new concept of signification"
(1993) Language/Semiotics/Music-Theatre
Honours Thesis, Murdoch University 1993
1992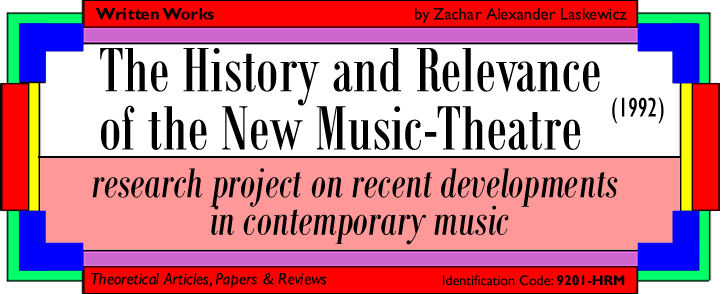 9201-HRM
The History and Relevance of the New Music-Theatre (1992)
(1992) The New Music-Theatre

Keyconcepts: music-theatre, Kagel, Cage, Henze, Avant-garde.

INFORMATION :
Research project discussing the importance of the new music-theatre genre in twentieth century performance art. Works of particular composers considered to be the most influential within the movement are presented, and both notation methods and contextual factors are considered in their analysis.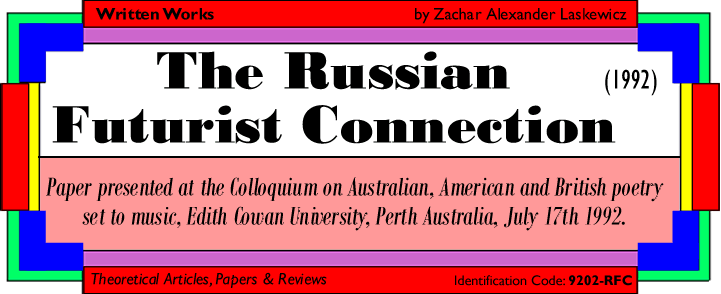 "The Russian Futurist Connection: Rediscovery of language through music-theatre performance"
(1992) Linguistics/Poetry/Music-Theatre
Paper presented at the Colloquium on Australian, American and British poetry set to music, Edith Cowan University, Perth Australia, July 17th 1992.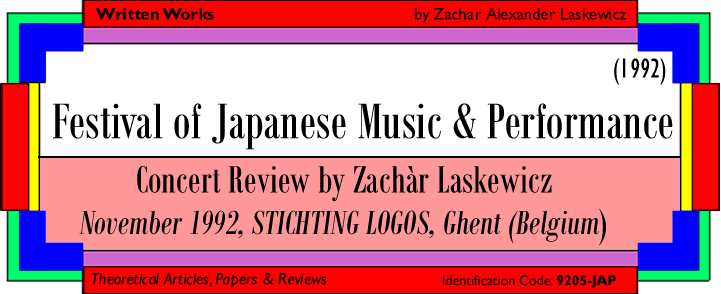 1991
9101-OCR
USING MUSIC AS AN OPEN CREATIVE RESOURCE
(1991) Music

Keyconcepts: minimalism, musical structure, music-theatre, musicality, 'music and the other'

PUBLICATION (ISSN: 0811-7497):

This article, based on the contents of the lecture Laskewicz presented at the Logos Foundation in Ghent, Belgium (January 28 1991) in 1990 is based on Laskewicz's early approach to his composition. He saw his work as being divided into two major areas, (i) theatre and (ii) structure.
– Laskewicz, Zachar (1991) "Using Music as an Open Creative Resource," in New Music Articles (issue 9): pp. 26-30.

9102-PER
The Performance Theory of Music-Theatre
(1991) Theatre

Keyconcepts: music-theatre, performance, temporality, liminality.

INFORMATION:
Paper based on the application of performance theory to the genre of new music-theatre, concerning in particular a new music-theatre work by Laskewicz involving liminality and temporality, and the way music can influence these areas.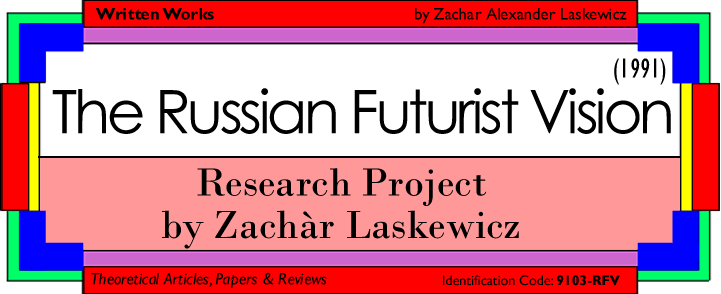 9103-RFV
"The Russian Futurist Vision"
(1991) Russian History/Poetry/Art Theory


1989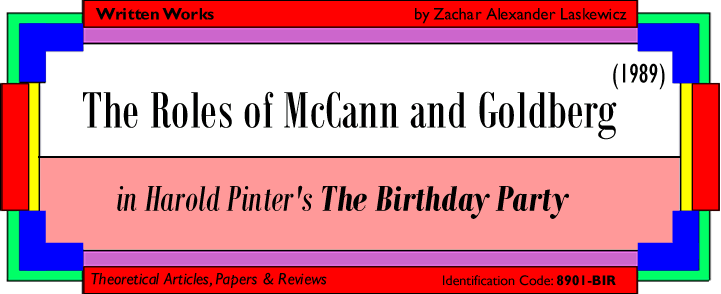 "Pinter's The Birthday Party"
(1989) Literary Theory/Postmodernism

1988
8801-TWC
"THERE WILL COME SOFT RAINS"
(1988) Literary Criticism

Keyconcepts: science-fiction, technology as metaphor, nuclear war, end of humanity
NOTES
- This article is based on the short story of Ray Bradbury sharing the same name.
1985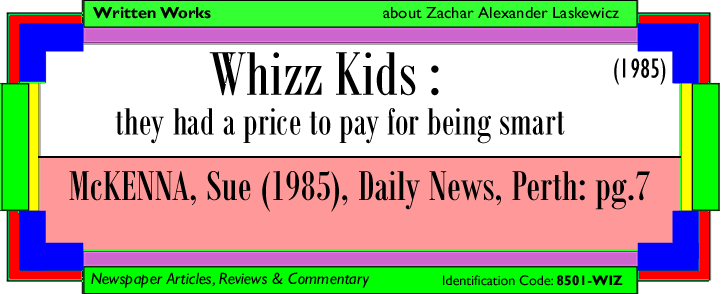 © May 2008 Nachtschimmen Music-Theatre-Language Night Shades, Ghent (Belgium)*
Send mail to zachar@nachtschimmen.eu with questions or comments about this website.



*LAST MODIFIED: September 27 2013.